Easy to Integrate
To make your existing device code work over Husarnet all you need to do is start the service in the background using just a few lines of code.
From a developer point of view, Husarnet connected devices behave like they were connected to the same WiFi router. They can however be connected to different routers in different networks (in different countries) with almost no configuration.
All you need to do to make a device such as ESP32, working in LAN, work over the internet, is to add the following lines to the existing web server code.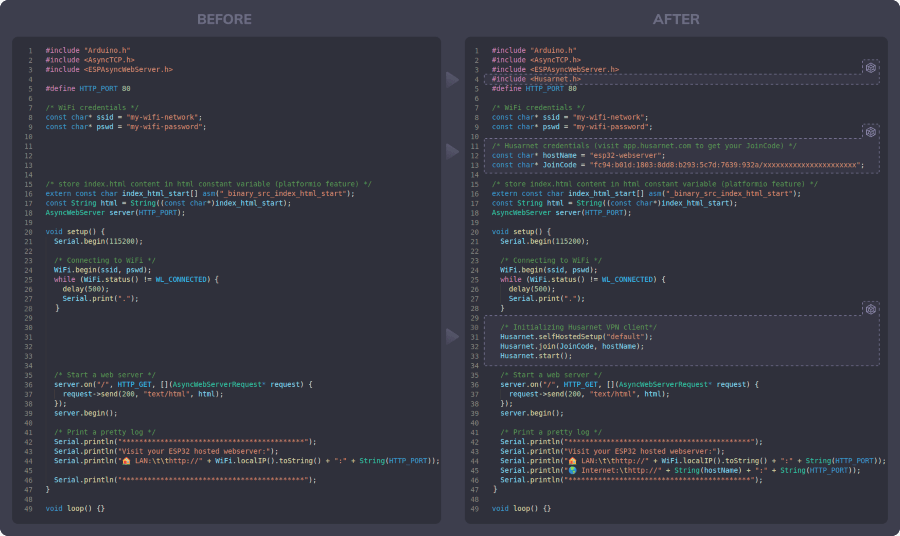 Lightweight
Let's compare the amount of flash memory used for the two code snippets (for ESP32) presented in the previous image:
887kB - for the code working only in LAN (with no Husarnet library)
1341kB - for the code working both in LAN and over the Internet (with Husarnet library included)
This means that on a simple microcontroller such as ESP32 Husarnet needs only ~450kB of additional flash in comparison to the same code working in LAN. Let's put it this way: you just installed a full VPN on your microcontroller for less than half a Mega Byte!
When it comes to RAM, Husarnet consumes only ~76kB of memory.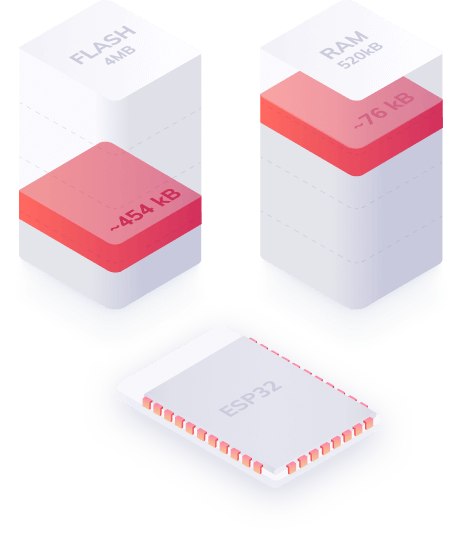 Extremely Secure
In typical IoT solutions RSA is used for session key exchanges and AES for data encryption.
In Husarnet we treat security much more seriously, and use X25519 (from libsodium) for key exchange, with ephemeral Curve25519 keys for perfect forward secrecy. The hash of initial public key is validated to match the IPv6 address. The packets are encrypted using libsodium ChaCha20-Poly1305 secretbox construction with a random 192-bit nonce. All to ensure high-security margins, and achieve high performance and throughput. Packets never leave your device unencrypted.
It's hard to find something more secure for IoT.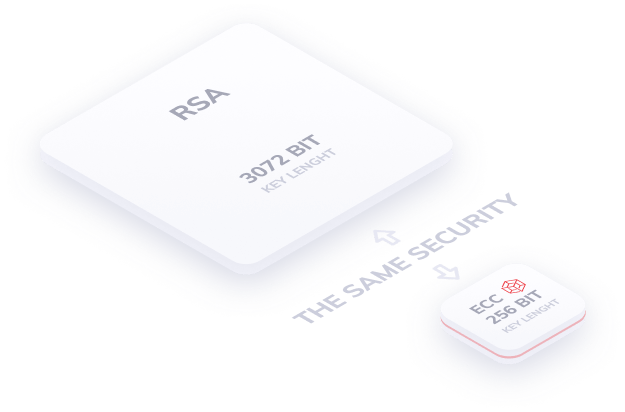 Simple Architecture for Your System
You can connect your IoT devices with computers and smartphones with no additional server in between.
In typical architectures you have:
Your IoT devices - eg. sensors, switches, cameras etc.
IoT server - like MQTT server, or 3rd party cloud service with it's own API and specific features
End devices - smartphones, laptops etc.
In a solution powered by Husarnet there are only:
Your IoT devices
End devices
Because IoT server is not needed for establishing the connection